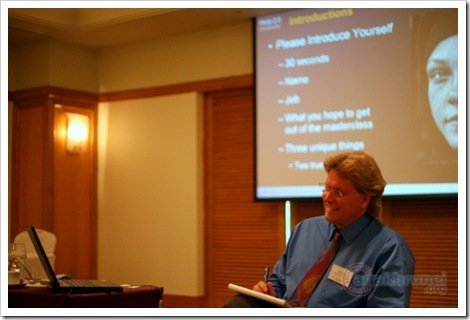 This week I delivered a two-day masterclass on Web 2.0 and Enterprise 2.0 in Singapore.  As always, I had a host of interesting participants, one of which was Reeda Malik, Brunei's top photo blogger.  Reeda was nice enough to take some shots during the class, both from the first day and from the second day. I'm grateful to Reeda for posting the pictures for me and all the participants to enjoy.
The class went extremely well and I thank all the participants for everything they taght me.  And now it is on to deliver a keynote and workshop at KM Australia 2008.
2 Responses to "Photo Blogger 2.0"
1. Reedz Says:
July 20th, 2008 at 11:10 pm

Hey there Jeff! Thanks for the mention! It was an awesome session we had and my colleague Ainee and I are still on a Web 2.0 buzz! Heheh! We look forward to seeing more of you in this neck of the woods soon! Perhaps we could arrange a keynote for you in one of our upcoming events here in Brunei even! 😉

2. Julie Says:
July 20th, 2008 at 11:17 pm

Jeff, great to hear about the successful event! Good job – so proud of you!
Leave a Reply